*Hello!* Thanks for the add on the KAL!! I was excited to see the group!

My name is Stacey a.k.a. Crimson Purl (come visit my personal blog!) :o)

I am starting on Ms. Marigold - has anyone knitted up this pattern?


http://www.zephyrstyle.com/catalog/item/2367447/2803300.htm


I simply love Zephyr patterns b/c they knit from the top down and there is no seaming...I detest seaming! This is my 1st Zephyr pattern to try out! And my 1st time trying a sweater!

I have heard alot of people doing Wicked or Green Gable so I decided to pick something different, especially with spring/summer coming soon!

So because I hear so much about the 'ease' of these patterns I thought I would give it a try!

I am typically a "seasonal" knitter and figured I would try Ms. Marigold out to keep me motivated during the spring and summer.

I received my yarn online from
www.elann.com
and BOY! I saved my cost by half! 50%! Unbelievable! I picked a deep purple (eggplant) color that is 80% Baby Alpaca 20% Silk and it is just luscious!

Did I say it was just luscious!!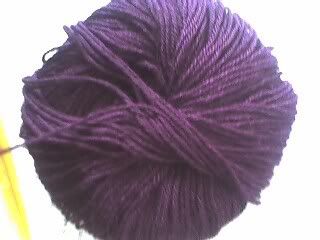 It is soooooooo soft!
Dilemea: The yardage needed for an XL size is recommended at 770 yards for 7 balls.
I ordered 7 balls of 763 yards........(each ball is 109 vs. 110). I wonder if I will truly need the extra 7 yards that I am missing? I wonder how much yarn is truly left over???
So of course I posted this lovely question on their message board on Friday night with no answer! *grr*
Anyway - What really attracted me to the pattern was the cute ruffles on top of the sleeves....well how about I am going to have to learn how to crochet!! >: That was not in the plan! I thought that was the whole point! But I won't dwell on that right now!

So I figured I would try to do things right and actually do my very 1st gauge! *gasp* Yep, I have never ever done one and never felt a need to before; but since this is a garment to wear I figured I better do the right thing and try my gauge out...so I have a question:

The pattern said it should measure 4 inches...it does if I stretch it just a tad! :0) The question is that okay?? I didn't think it was that serious right? Figured I could stick to this needle size.

Well I plan to CO on tomorrow and will post another update soon!

Can't wait to interact with you ladies!